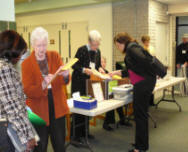 Any individual, regardless of gender, with an Associate or Baccalaureate Degree from an accredited college or university is eligible for membership. Student affiliate memberships are available to undergraduate students enrolled in a two-year or four-year college or university.
AAUW is a non-profit organization dedicated to inspire and encourage all people, especially women, to seek advanced education and continued lifelong learning.
For more information contact the President.